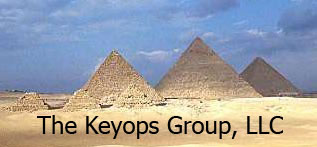 Welcome to www.keyops.com!


Our Mission
To provide complete, high quality, state-of-the-art Information Technology (IT) solutions to our customers, leveraging our expertise in both traditional IT technologies such as Drupal, HTML, PHP, MySQL, C, Java, Microsoft, and Oracle as well as music related software tools from Steinberg, Native Instruments, VSL, Wusik, IKMultimedia, AAS, Creative Professional, EWQL, TAL, and Xfer as well as hardware from Yamaha, Focusrite, MOTU, Behringer and Roland among others. technologies.

Company Profile
Founded in 1995, by Rawl Gelinas and Paula Gelinas in Virginia Beach, VA, the company has provided System Integration and Custom Programming Services building complete IT solutions for our customers for twenty years.

By providing custom developed solutions based in both traditional Client/Server and Web based n-Tier technologies with various SQL back-ends we have delivered to our customers the IT tools needed to complete their missions.

Specializing in custom web site development utilizing the open source Drupal CMS platform and its rich library of modules. This allows us to create sophisticated web sites without overbearing annual license fees.

Customers have included several agencies of the U.S. Navy, the Library of Virginia, the Colonial Williamsburg Foundation, the Norfolk International Airport and Symphonicity, The Symphony Orchestra of Virginia Beach among others.

The company is a Microsoft Solution Provider and develops solutions based in Microsoft's SQL Server, Oracle Server, and Linux hosted MySQL Server.

We use Drupal, HTML. PHP, SQL, ASP, Java, C, C++, Microsoft .NET and Oracle products to create Windows and Linux hosted web sites allowing browser based front-ends to effectively manage data.

Web based Drupal Content Management and Dynamic HTML and SQL based web sites are one of our specialties.

Most recently (since 2005) we have extended our focus to include support for computer based music production and virtual orchestration with MS Windows based DAW's (Digital Audio Workstations) including such products as Cubase, Komplete (NI) and many VST plugins from smaller independant vendors such as Wusik, TAL and XFer, integrating them with hardware synths and professional grade DAW interfaces on Windows PC's. This allows our musician customers to focus on making music rather than becoming computer experts.
KEYOPS now stands for "KEYboard Orchestration Professional Support". Remember us when you need to make great music but your system won't play!


Contact Information

Postal address
The Keyops Group, LLC
2317 Plantation Drive
Virginia Beach, Virginia 23454-2738


Copyright © 1997 - 2023 THE KEYOPS GROUP, LLC